Michael Pleasant elected NMAPC President and Labor Co-Chair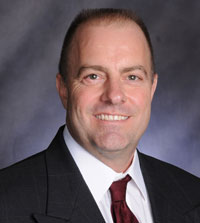 NMAPC President Michael PleasantThe National Maintenance Agreements Policy Committee, Inc. (NMAPC) is pleased to announce that Michael A. Pleasant, Director of Trade Jurisdiction for the United Association of Journeymen and Apprentices of the Plumbing and Pipe Fitting Industry of the United States and Canada (UA), has been elected Labor Co-Chair of the NMAPC Labor-Management Committee and President of NMAPC.
Mr. Pleasant succeeds Brent Booker, who served as NMAPC President and Labor Co-Chair for more than three years. Mr. Booker was formerly Director of the Construction Department for the Laborers International Union of North America. On Thursday, June 7, he was elected Secretary-Treasurer of the Building and Construction Trades Department (BCTD) of the AFL-CIO by the organization's Governing Board of Presidents.
Mr. Pleasant began his career in the pipefitting industry by joining UA Local 157's apprenticeship program in Terre Haute, Indiana after graduating from high school in 1981. In 1996 he was elected to the Executive Board of Local 157 and also appointed as a Field Representative. He was elected Business Agent for the local in 2001 and Business Manager in 2004. In 2009 he accepted a position in the UA General Office Jurisdiction Department as a Special Representative. In March 2011, UA General President William Hite appointed Mr. Pleasant to his current position of Director of Trade Jurisdiction.
"I am looking forward to working with all the craft trades, contractors and owners that utilize the National Maintenance Agreements," Mr. Pleasant said. "These Agreements administered by the NMAPC and its staff are at the forefront when it comes to serving the industrial maintenance and construction Industry. The most effective way to put highly skilled union craft workers in good paying jobs is to help owners and contractors fulfill their needs in a highly competitive market. My goal is to do just that, by keeping the Agreements running smoothly and facilitating improvements when possible. I am honored to be working with Steve Lindauer and his staff. They are focused, hardworking and care about the industry."
Mr. Pleasant added: "I would like to congratulate Brent Booker in his new position with the Building and Construction Trades Department. Brent has done a great job while serving on the NMAPC, and I know he will continue to be a great asset to the union construction industry."
"When I look back over the three short years of Brent's tenure at the helm and the things that have been accomplished under the NMAPC Program during the most challenging economic period of our lives, I am truly impressed with his leadership, thoroughness and 'roll up your sleeves' approach," said Stephen R. Lindauer, CEO and Impartial Secretary of the NMAPC and CEO of sister organization The Association of Union Constructors (TAUC).
"Brent is a dedicated advocate for everyone associated with the union construction industry," Mr. Lindauer continued. "He will be a real asset to President McGarvey and the Governing Board of Presidents as the BCTD puts the finishing touches on assembling its new leadership team and charts its course for the future. We at TAUC and the NMAPC look forward to supporting and being a part of that ongoing journey."
Mr. Lindauer said he is enthusiastic about beginning a new phase of NMAPC history with Michael Pleasant. "While Mike has a tough act to follow in his new duties, his ability to come up with novel ideas and approaches to our business model and clients has already borne fruit for the labor and management participants throughout the industry. He brings a steady hand and demeanor, as well as respect from our customers, signatory contractors and participating international unions. These qualities will serve the NMAPC Program well as we continue to strategically push ahead in growing our work hours as we have over the past forty years. I look forward to working and collaborating with Mike."
June 07, 2012