In Memoriam: Joseph La Rocca, 1925-2021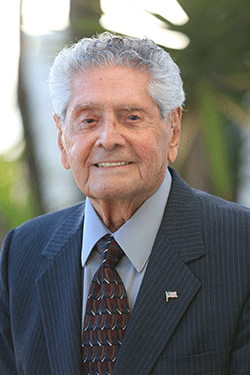 Joseph La Rocca, 1925-2021Joseph La Rocca, a true legend in the union construction and maintenance industry, passed away on Sept. 9 at the age of 96.
Joe served as Executive Vice President of TAUC's predecessor organization, The National Erectors Association, from its inception in 1969 until his retirement in 1986. In addition, he also served as the first Impartial Secretary of the National Maintenance Agreements Policy Committee Inc. (NMAPC), and was instrumental in spearheading its creation and shepherding its unprecedented growth throughout the 1970s and 1980s.
Born in 1925 in Newburgh, New York, Joe enlisted in the Navy at age 17 and earned three battle stars in the Pacific Theater before he was 20 years old. Returning to civilian life after the war, he worked in construction and then formed a new chapter for the National Electrical Contractors Association (NECA) in Eastern New York. By the mid-1960s he was working as NECA's Assistant Director of Labor Relations in Washington, D.C. Joe's success caught the attention of the General President of the Ironworkers, John Lyons, who was in the process of forming a new trade association: the National Erectors Association. Joe soon came on board as its first leader, and the rest, as they say, is history.
Joe made TAUC and NMAPC what they are today. His passion for the business is a vital part of his legacy. His leadership philosophy was simple: you don't just serve the contractors, the participating unions and/or the owner; your service is an even higher calling to the growth and prosperity of the industry as a whole.
In 2019, TAUC named our newest award program in his honor, The Joseph R. La Rocca Union Projects of the Year. These Awards recognize outstanding work performed under labor-management cooperation and are judged using four criteria: collaboration/teamwork; construction quality and craftsmanship; project execution/scale; and safety.
"It is difficult to explain how much Joseph La Rocca meant to TAUC and NMAPC and the impact he had on the union construction and maintenance industry," said Daniel Hogan, CEO of TAUC and Impartial Secretary/CEO of NMAPC. "He was a true legend and pioneer in every sense of those words. But his legacy encompasses far more than just our business. As anyone who met him in his later years can tell you, Joe lived his life to the fullest and was constantly making new friends. He had more energy in his nineties than most folks have in their twenties. He approached every day with optimism and gratitude. We, too, are deeply grateful for Joe, and send his family our sincere condolences."
Joe is survived by two children, Paul (Nancy) and Donna (Mark); a brother, Paul; two grandchildren, two great-grandchildren and many nieces and nephews. The family is requesting that donations in memory of Joe be directed to the International Masonry Training and Education Foundation (IMTEF). Learn more at www.imtef.org.
Below is a video TAUC created in 2019 to honor Joe's legacy.
September 13, 2021